Tuesday, November 30, 2004
Sorry it's been a while...
I suppose it's time to give an update...been a big week with the Holiday in there.

Spent most of Thanksgiving on the road seeing family in Detroit. The night prior we had a huge snowstorm that really screwed the roads so travel was tricky to say the least.

Had lunch with Jessica (in from Oregon), Lisa and Stacey (who's ready to burst!). Julie & I met them at The Union in Kalamazoo. Nice place. Get the homemade potato chips.

Back to work on Monday was nice actually, good to get back in the grind. Does that make sense to you? There's some comfort in my daily routine and I started to miss it after 4 days off.

Hoping to see The Producers tonight and B.B. King on Saturday. Friday evening is my company holiday party too...always lots of great food (as if I need anymore...Santa, you need a stand in?)


Monday, November 22, 2004
How many cars have I owned??
My last post got me thinking...let's see what I've owned:

1. '81 Dodge Aries
2. '78 Plymouth Sapporo
3. '65 Chevy Corvair
4. '79 Chevy Monza
5. '881/2 Ford Escort GT (brand new!)
6. '90 Honda CRX Si
7. '68 Chevy Corvair
8. '87 Dodge Omni
9. '89 Dodge Ram 50 pickup
10. '94 Mazda Miata (still own it)
11. '82 Saab 900
12. '80 BMW 320i
13. '87 Alfa Romeo Milano
14. '00 Dodge Neon ES
15. '97 Dodge Ram SS/T (still own it)
16. '02 Chrysler PT Cruiser (still own it)
17. '90 Mazda Miata (my race car)
18. '94 Mercury Tracer
19. '91 Saab 900 SPG

EDIT July 2005:
20. '94 Mazda Miata w/ Flyin' Miata Turbo!

Whew...yep, 19...er, TWENTY cars. It is a sickness!

Sunday, November 21, 2004
I think this is the 19th car I've owned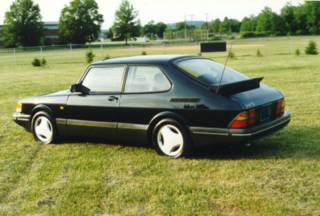 This is my newest car. A 1991 Saab 900 SPG. It shows 52,000 miles on the odometer & is in fantastic shape. I've given it a tuneup and while the shifter is a bit sticky, it's a very impressive car. SPG stands for Saab Performance Group, this was their factory hot rod and the fastest car they had ever built up to that time. I know..."Hammer, I've never heard of SPG before!" That's because they're very rare: less than 7,000 were brought to the states...and in 1991, they only brought in 254...heck, only 105 in black. Talk about a rare car!
I wasn't looking for one of these, but my friend Scott Pease is a dealer and ran across it at the auction last week. I'll say that the price wasright...less than 1/2 the cost of what we're seeing the SPGs sell for online across the country...and this one is at least the equal of any of those cars. Yeah, I'm pretty geeked up!

Tuesday, November 16, 2004
Hostettler mounting campaign to change the name of Interstate 69

By August Wayne, THG News

John Hostettler, the Congressman representing the 8th district of Indiana, has been convinced by local religious groups to introduce legislation in the House that would change the name of an Interstate 69 extension to a more moral sounding number.

There are plans to extend the interstate from Indianapolis through southwestern Indiana all the way through Texas into Mexico in the coming years. While most believe this highway will be good for the state's economy, religious conservatives believe "I-69" sounds too risqué and want to change the interstate's number.

Hostettler, a proponent of the interstate extension, agrees. "Every time I have been out in the public with an 'I-69' button on my lapel, teenagers point and snicker at it. I have had many ask me if they can have my button. I believe it is time to change the name of the highway. It is the moral thing to do."

As a matter of fact, naming the highway's extension I-69 is a violation of the Interstate Highway System's rules for numbering roads. Interstates numbers are to increase from west to east. If the extension through southern Indiana is named I-69, then 69 will be west of I-65, a direct violation.

"Naming the road I-63 not only follows numbering guidelines, it doesn't have the sexual undertones that I-69 has," says Hostettler, "It is a win-win situation."

The change will more than likely be introduced in committee when Congress convenes after the first of the year.



Saturday, November 13, 2004
This is sort of like that video I posted a month ago with the superlight Mini. Click on the title to watch this incredible drive in a Lotus 7!

Scott Peterson is Guilty huh?!
This guy's story had more holes than that pair of grey underpants in the back corner of my drawer.

Oh...hang on...Julie just walked in & wants to "talk". This blog will continue in a while...


Wednesday, November 10, 2004
So I went to court yesterday.

Here's the deal, the cop claims he clocked me at 79 in a 60 Construction Zone. OUCH! He was hidden behind a bridge abutment just past the speed change from 70 to 60. In any event, I figured I may as well go fight it...I've got nothing to loose. Well, Officer Gillespe showed up, we each told our side of the story to the magistrate and we found a comprimise. What would have been a BIG fine and 5 POINTS (yikes!) is a much smaller fine and only 3 points. The irony: as we're leaving the court, the officer says to me that you could actually kill someone with your car and not get 5 points on your record. Sheesh!

I still think it's a scam, they had at least 3 officers running a sting in that 1/2 mile long area that day (I was pulled over RIGHT BEHIND another car that was pulled over!). And then they have the nerve to say it's about "enforcement, not revenue generation."

That's Bullshit.

I'm EVERYWHERE!
Last Friday I was featured on WWMT Channel 3 in Kalamazoo. They did a story on Blogs and talked with a school teacher, a gal from Western Michigan University and me. I wasn't on long...but the guys did get in a quick shot of my racecar photo on the wall...and made my studio look much larger than it really is! It was pretty cool!
Add that to my career in radio, my online radio show at
AutoRacing1.com
and my recently published article for Allegan County Living magazine and it's damn hard to ignore me in West Michigan! LOL
Thursday, November 04, 2004
Tonight's the night!
REVISION: I've been bumped! I just got word from Mark at Channel 3 that it's moving to Friday night's 11pm news. You'll have to wait until tomorrow!
Tune your televisions to WWMT Channel 3 in Kalamazoo for this evening's 11pm newscast. Remember back on my birthday, reporter Mark Albert came to talk with me about this whole "Blogosphere" we're in... I gave my opinions, they shot video & the whole deal is supposed to air tonight.
If you happen to tape it and can convert it to a video file, I'd love to have a copy to upload.
Television: yet another media that I am off to dominate!
So, what'cha doin' for lunch?
Cooks from around the world have gathered in Serbia for the World Testicle Cooking Championship. Testicles are regarded as a gourmet delicacy in Serbia and the country is hoping to develop an export market. According to the event's organizer, "The best cooked balls come from Serbia and we wanted to stage this contest to show the world what great dishes can be cooked using testicles, which are known locally here as white kidneys." Next year the event will include an 'exotic testicles' section where chefs will have to come up with a dish using camel and ostrich testicles.

This makes me wonder about the Chinese Buffet down the street from my office. They feature "Chicken Ball" on a skewer.


Tuesday, November 02, 2004
Does this have something to do with Canadian Content?!